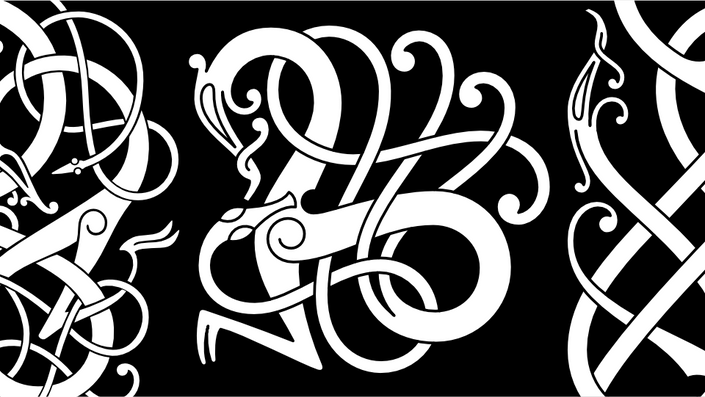 Master the Urnes Style
I'll take you through the process of authentically recreating the style step by step
This course is no longer open for enrollment
It's one thing to be able to see and recognize the individual styles of Viking art.
But to actually recreate them is a whole different beast!
In this course I'll be taking you step by step through my own tried and tested process of recreating Urnes style artwork in an authentic way true to the historical examples.
Autumn Semester Pre-launch
How would you like to become a master of the Urnes style this autumn semester?
I am currently producing the course and will be dripping out one or more lessons every week through the fall and winter starting August 16th, 2018.
If you got approximately one hour every week to go through a bite sized lesson, I will be able to teach you all you need to know to recreate authentic artwork in the Urnes style.
Follow along week by week and you will be a master of the Urnes style this winter!
You will learn how to:
Find and analyze good historical references.
Construct a composition from start to finish.
Create the flow of the intricate patterns of interlace.
Get the curves of the outlines right.
Articulate all the bodyparts of the animals right.
You will ultimately be able to:
Find the balance between creative freedom and staying true to the historical style.
Avoid mixing styles unintentionally.
Create your own designs to avoid using designs from other artists.
Who is this course for?
This course is perfect for designers, illustrators, tattooers and crafters who are already confident in their general basic drawing skills, but find it difficult to figure out the rules and intricate concepts of Viking Age ornaments.
In the course I'll be showing you the concepts through my own method of execution, which happens to be by drawing digitally on a Wacom tablet, but the process can easily be transferred to pen and paper, and I'll give you suggestions on how to do this too.
Wether you work digitally, with pen and paper or in a completely different material doesn't matter at all. The course is focused on the general concepts of the art style and can be applied to virtually any craft or method of execution.
Who is it NOT for?
If you don't already have some confidence in your general drawing skills, then this course is NOT for you, as I assume students of the course already know the fundamental concepts of illustration which will not be covered.
When that's said you absolutely don't have to be a seasoned and battle-scared pro to skip along, this course is perfect for you if you already know how to draw and want to take your Viking Age craft skills to the next level.
What Will the Course Consist of?
Please note: As the course is currently under development the exact form of the content is of cause still subject to change.
Course Material
Lessons: Video + Transcript
Workbook
Textbook
Work Files
Lessons
The course will have an introduction with an overview of the contents and introductions to basic concepts.
The main part of the course will consists of three parts each covering one of the most typical compositions of the Urnes style.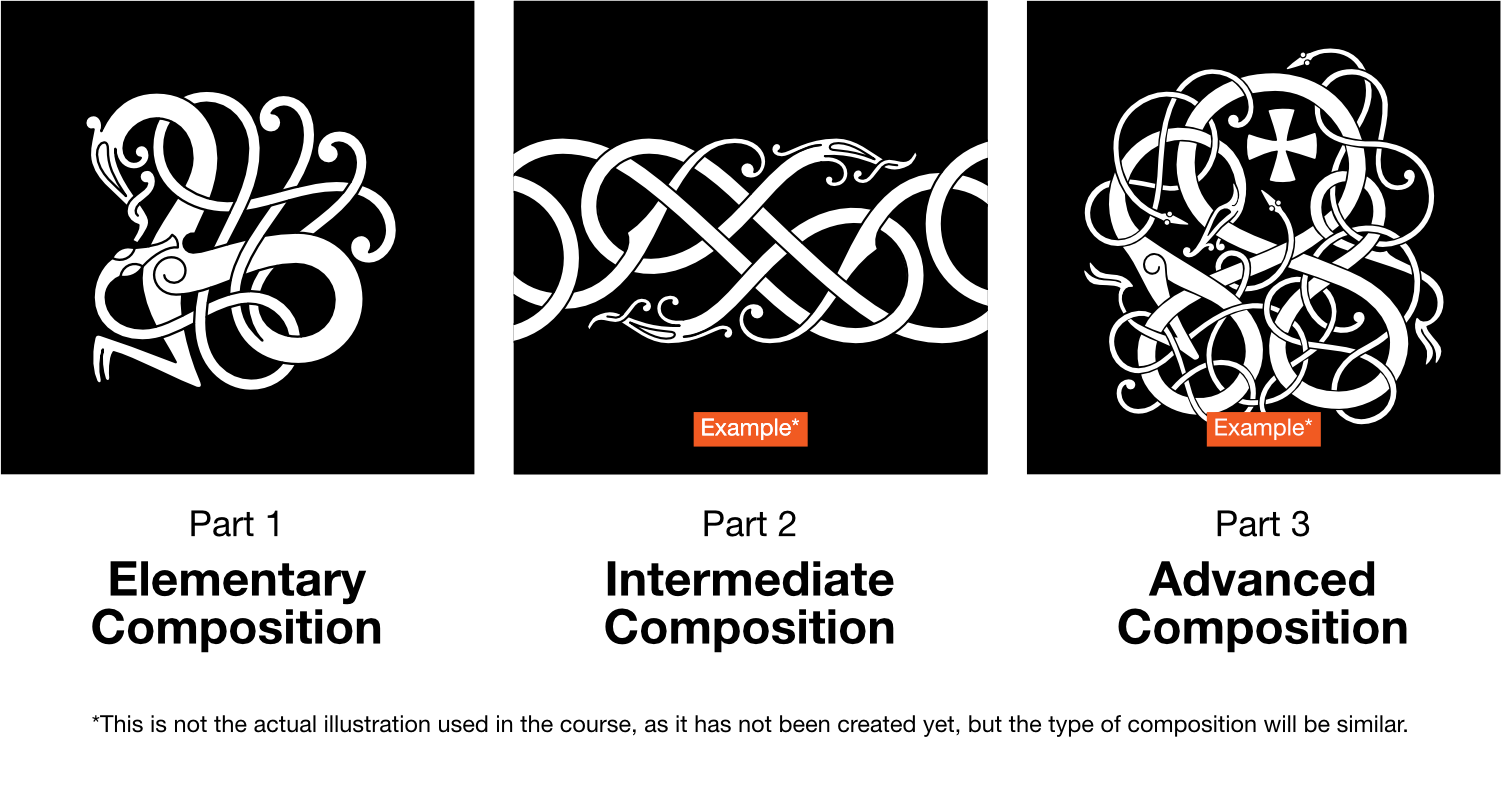 Part 1-3 will all consist of the following lessons:
Analysing the References.
Breakdown of the Composition.
Sketch #1 — Layout and Ribbon Flow.
Sketch #2 — Fleshing Out the Ribbons.
Sketch #2 — Ribbon and Terminal Widths.
Sketch #2 — Features and Details.
Sketch #2 — Weaving the Ribbons.
Inking — Vectorising the Design.
Inking — Outline and Fill.
Download: Workfile.
Bonus: Time-lapse Video of the Process.
Part 1 — Elementary Composition: Openwork brooch


You will learn how to recreate a typical Urnes style openwork brooch design based on analyses of the many historical examples found throughout Scandinavia.
Part 2 — Intermediate Composition: Chain pattern


You will learn how to recreate a typical Urnes style chain pattern design based on analyses of historical examples like the Hørning plank and the Urnes stave-church wood-carvings.
Part 3 — Advanced Composition: Runestone


You will learn how to recreate a typical Urnes style runestone design based on analyses of the many historical examples found predominantly in Sweden.
Your Instructor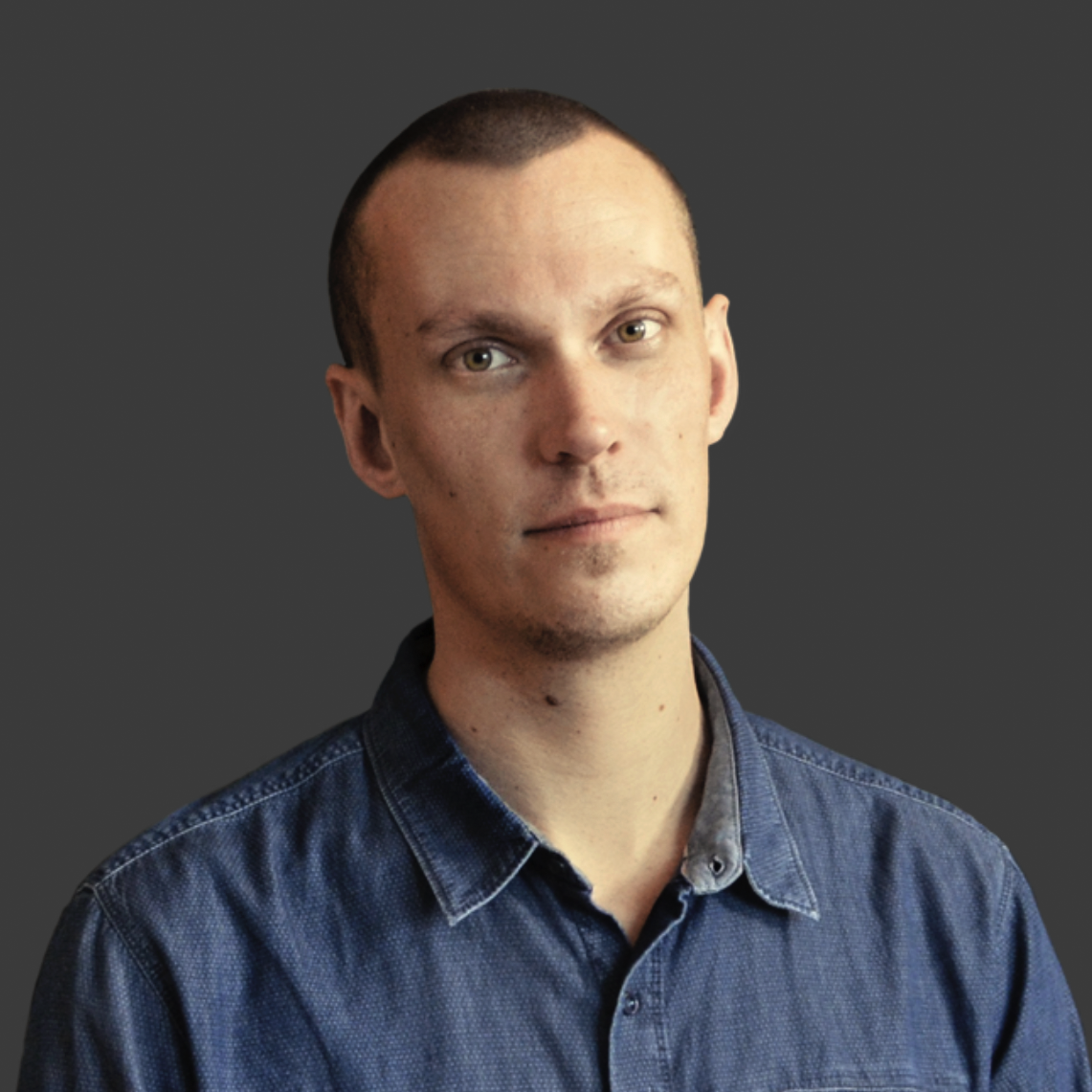 Hi there, I'm Jonas Lau Markussen.
The Viking Age have always fascinated me — Especially the animal ornaments of the Norse.
I have 10+ years experience working as a graphic designer and have a masters degree in architecture.
For the past three years I have been studying the art of the Viking age trying to understand the intricacies of the art form and how to recreate it.
I have turned my research into a guide-book about the characteristics of the styles available for free through my website:
Course Curriculum
Course Material
Available in days
days after you enroll
Basic Composition — Shapes
Available in days
days after you enroll
Frequently Asked Questions
What if I have questions?
Please, by all means send me a message:
[email protected]
I'll be happy to answer any questions you might have.
How long do I have access to the course?
You have lifetime access to the course. After enrolling, you have unlimited access to this course for as long as you like - across any and all devices you own.
What if I am unhappy with the course?
If you are not satisfied with your purchase, contact me in the first 30 days and I will give you a full refund.
When does the course start and finish?
The course starts as soon as you enroll. There will be new lessons every week throughout the fall (and beginning of winter) of 2018 until the complete curriculum is online. Other than that it is a completely self-paced online course - you decide when you start and when you finish.
Benefits of Enrolling Today
If you enroll today for the autumn semester you will get several benefits. First of all I will be open to suggestions from students and also be able to implement changes to the course along the way. When the course officially launches it will be fixed and I won't necessarily be available and able to answer your questions.
I have a strict "no sale policy" which means that the earlier you buy, the more you will save. I will never discount the course. Ever. Period. This is to guarantee you that the price you are being offered today is the best deal you will ever get. In fact I can guarantee you that the price will go up after the launch. When you buy today you will even get any future updates to the course free of charge.
Pre-launch Enrollment Includes:
The best and most affordable offer on this course ever
— The price will go up after the pre-launch phase.

All your questions answered
— During the pre-launch phase I'll be answering student questions on a weekly basis.
Influence on the content of the course
— Request additional lessons and material and you might just get it.

All future updates to the course
— Free of charge.
This course is closed for enrollment.